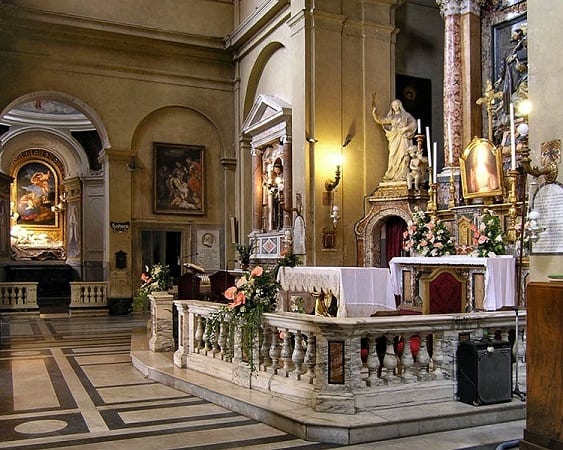 January Feature Tour
Rome
From the Dark Ages to the Baroque Splendour
Half-day tour in Rome: Pietro Cavallini and Gian Lorenzo Bernini in Trastevere
From the Last Judgment by Pietro Cavallini in Santa Cecilia, to the Church of S. Francesco a Ripa in quest of some hidden Berninis.
The Rione di Trastevere, besides the many pizzerias, clubs and restaurants hides in its churches.
Starting from the Basilica of Santa Cecilia in Trastevere built upon one of Rome's oldest churches, dedicated to the Patron Saint of Music and Musicians. Admire the IX century mosaics and the XIII century altar by Arnolfo di Cambio. The Church is also famous for the fragments of the Last Judgement Painted by Pietro Cavallini, an extraordinary frescoed wall hidden behind the Nuns Choir and only seen by few people.
Continuing through the streets of Rome, visit the wonderful Church of S. Francesco a Ripa, here in one of the chapels to admire the statue of the Beata Ludovica Albertoni, one of the last artworks by Gianlorenzo Bernini.
Highlights
Explore the hidden delights of Rome's favourite neighbourhood
Off the beaten track tour
Discover the artworks of Cavallini and Bernini
Itinerary
Trastevere neighbourhood
Basilica of Santa Cecilia
Piazza di Santa Maria
Church of S. Francesco a Ripa
Tour Information
Meeting point: At your centrally located hotel or outside Basilica of Santa Cecilia
Endpoint: Church of S. Francesco a Ripa
Duration: approx. 2.5 hours
Start time:  10.00am, 3.00pm
Includes: official, local guide
Exclusions: Food, drink, transportation and personal spends
Suitability: for all ages
Availability
This tour runs all year round, come rain or shine. Monday to Saturday morning.
Basilica of Santa Cecilia
,
Bernini
,
Cavallini
,
Church of S. Francesco a Ripa
,
History of Rome
,
Italy
,
Itinerary
,
off the beaten track
,
Piazza di Santa Maria
,
Private tours
,
Religion
,
Rome
,
Rome Tours
,
The Grand Tour
,
the grand tour europe
,
tour guides
,
tours
,
trastevere
0