If you are visiting Italy over Christmas, here is a little helpful guide about what to expect.
Feast of the Immaculate Conception, the start of Christmas 
Christmas celebrations start on 8th December with the celebration of the Immaculate Conception (read our Immaculate Conception blog post) and continues to January 6th.
It is the celebration of God blessing Mary with a life free from sin, so that she could give birth to Jesus Christ.
Banks are closed on this day, but you will find the shops open and most Christmas markets open too. In Rome, people will visit the Spanish steps to see the Pope paying homage to the Virgin Mary at the Column in Piazza di Spagna.
Italian Christmas Tradition
Italy tends to have traditional Christmas traditions and the decorations are more traditional than Rudolf the Red Nose Reindeer and is a great time to pick up some beautiful Christmas decorations to take home with you. You will see the local Christmas markets, where you can pick up wonderful Christmassy souvenirs. You can see (and hear) choir concerts and visit ceremonies
Nativity scenes are very popular, most Churches will have their own, as well as some shops and family homes. The Baby Jesus is not put into the manger/ crib until after midnight.
Presents are exchanged after midnight after enjoying the Christmas dinner and some families will go to mass, there is one at the Pantheon and the famous one at the Vatican (tickets are needed to attend the Vatican). Most of the historical churches will also have masses, like; Basilica di Santa Maria in Aracoeli, Basilica di Santa Maria Maggiore, and for mass held in English; St Pauls within the Walls and All Saints Angelican Church.
Christmas street lights, Christmas trees and shop decorations have only started to appear in the last few decades. Some of the best places to see for Christmas lights is around the Spanish Steps, Via del Corso, Via dei Coronari, Trastevere and stop by Piazza Navona for the Christmas market.
Presepe (Nativity Scenes)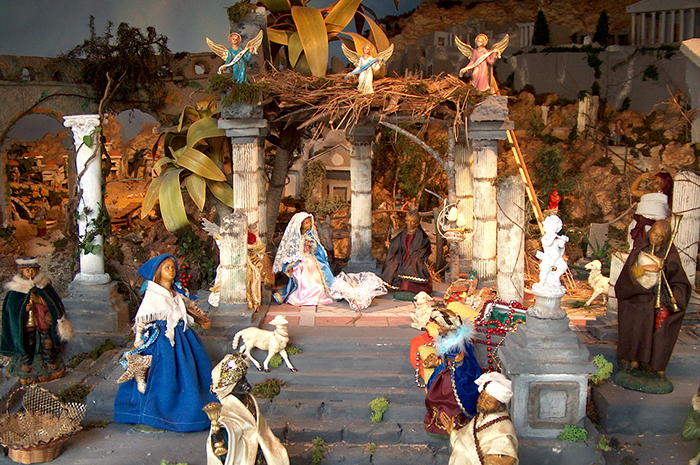 Nativity Scenes are the most popular decoration that you will see around. Churches will have them, but shops and home have them too. Stores tend to get creative and there has been nativity scenes made out of edible decorations. One of the most famous and biggest is in St Peter's Square.
Naples is well-known for it Nativity scenes and there are some amazing creations to discover. Read more here: Nativity Scenes
Christmas Eve 
Christmas Eve is a national holiday in Italy, were shops and banks are closed. It is a day where families come together for dinner before going to Christmas mass in the evening or midnight mass.
A traditional meal is to eat fish (abstaining from all meat on Christmas eve), usually Italians don't eat anything (or much) throughout the day and enjoy a multiple courses of fish and seafood dishes, there can be as many as seven. Tradition for 7 fish dishes in order to prepare and purify the body and eating lean before Christmas celebrations.
You will find there to be clams in pasta, white fish, octopus and shellfish (clams/ mussels) and even fried eel.
Christmas Day
Again Christmas is a national holiday, with most places closed, including attractions (like the Vatican and the Colosseum). There will be some restaurants open for Christmas dinner (always best to make a reservation).
Christmas day is another full day of food. Starting with Cappelletti in Brodo (pasta in broth), lasagna, tagliatelle bolognese, cannelloni and then a roast (which can be any meat, beef, chicken and turkey is becoming popular).
Epiphany

Epiphany is celebrated on 6th January and is a national holiday in Italy and is celebrating the arrival of the three wise men at the manger of Baby Jesus to give gifts. It marks the end of the Christmas celebrations. Children tend to look forward to this day the most as it revolves around the tale of La Befana, an old woman that rides around on a broom the night of 5th January in search of Baby Jesus. She fills sockings of every child with sweets, in hopes of finding baby Jesus.
Around this time, you will see lots of images of a woman on a broom stick (nothing to do with Halloween).
Christmas market and funfair in Piazza Navona is a great place to visit and is open until 6th January and the festival 'Festa della Befana' takes place. There are stalls that sell hand-made nativity scenes and tree ornaments and seasonal sweets.
Ice skating is another option and there is usually an outdoor rink by Castel Sant'Angelo.
Venetian Lights
Venice is magical throughout the year, but during Christmas the streets are decorated with lights and Christmas markets with the largest at Campo Santo Stefano.
St Marks Basilica holds a Christmas Mass at midnight. The sounds of hymns helps to create a Christmassy atmosphere, not only that but there are Hanukkah light in Cannaregio district (which was once a Jewish Ghetto). You can try fritelle di zucca barruca, which are like pumpkin fritters that are a traditional Italian Hanukkah treat.
Panettone in Milan
Milan is where Panettone was created. There are stores, large and small that will sells this amazing sweet bread. It is an iconic food for Christmas and you will see it sold everywhere.
Panettone is considered a dessert, it is made with raisins and dried fruit. It is often eaten with wine, coffee (and sometimes tea).
Milan also has Christmas market by the Duomo, which is dedicated to traditional products.
Naples and Nativity scenes
Naples is renowned for celebrating Christmas, with amazing street Christmas lights, fabulous Nativity Scenes and the Christmas markets. The historical city centre is full of shops, bursting with Christmas gifts and Christmas Markets. San Gregorio Armeno street is the place to go to see the traditional Neapolitan craftsmen selling their handmade nativity scenes.
Here are some more posts that you might be interested in:
Christmas
,
Christmas at the Vatican
,
Christmas Day
,
Christmas eve
,
Christmas in Italy
,
Christmas in Naples
,
Christmas tours
,
Christmas tours in Rome
,
Italian Christmas food
,
Rome
,
Traditional Italian Christmas dinner
,
Vatican
,
Visit Rome at Christmas
0