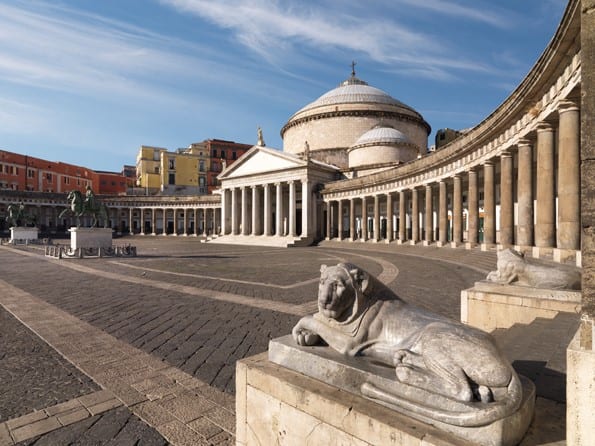 Take a trip and discover the 'Secret Naples'. Explore the labyrinth of tunnels hidden underneath the old town. Soak up the atmosphere and learn the history and culture of a wonderful city.
Arriving in Naples
Airport
Naples only has one airport, Aerporto Internazionale di Napoli.
The city centre is 6km away from the airport and takes about 20 minutes by taxi. There is also the shuttle bus which is cheaper, €5 a ticket that last 90 minutes.
Getting around
Taxis
Taxis can be found at signposted ranks. Authorised white taxis have the city's emblem on the front doors and rear licence plate, and a meter. Steer well clear of unauthorised 'taxi' drivers, who may demand exorbitant sums for short journeys.
As you set off, the meter should read €3. There's a €4.50 minimum charge per trip. On Sundays or holidays the minimum charge becomes €5.50; €2.10 10pm-7am; 50¢ per piece of luggage in the boot, and an extra €3.10 to or from the airport.
Prices are fixed between Capodichino and Stazione Centrale (€12.50) and Stazione Centrale and Molo Beverello (€16). Each driver must display this list of fares: if you don't see it, ask for the 'elenco di tariffe predeterminate'.
Metro
Naples' system of underground and overground railways and trams, operated mostly by Metronapoli can be the fastest way to get around parts of Greater Naples.
Red M signs indicate a metro station. Tickets are sold at any tabacchi, and at machines in every station. They cost €1.10 and are valid on any form of transport within the city for 90mins.
 Car
We don't advise renting a car to drive in Naples. But if you do decide, here are a few helpful notes;
Keep your driving licence, insurance documents, vehicle registration and photo ID on you
at all times; when stopped by the police, you may be fined if you
can't produce them.
Flashing your lights means that you won't slow down or give way, and want the person in front of you to switch lanes.
Neapolitans often ignore red lights, so approach junctions with caution. If traffic lights flash amber, give way to the right.
Maintain your cool and be prepared for anything; watch out for pedestrians and scooters.
Italians drive on the right.
 Bus
Traffic makes bus travel in Naples difficult, you're often quicker walking. Still, the dedicated bus lane on Corso Umberto can make bus travel to places between San Carlo opera house and the Stazione Centrale viable. The bus can also be an option when travelling to Mergellina and Posillipo (from Santa Lucia or the Riviera di Chiaia).
Bus services are run by ANM There is no central bus station. Some buses run from Piazza Garibaldi, others from Via Pisanelli, near Piazza Municipio, others from Piazza Vittoria. Electronic signs at Metro stations and bus stops give waiting times. Before taking a bus, buy tickets at a tabacchi or newsstand and stamp them in the machines on board. Enter buses through the front or back door and exit through the central ones; before your stop, press the red button.
A single ticket, allowing up to three trips on all metropolitan transport – including one trip only on the metro and funiculars – costs €1.10 and is valid for 90mins. A 24hr ticket for unlimited travel on all metropolitan public transport costs €3.10 Mon-Fri; the 3-day ticket costs €20 (includes Alibus & buses on Capri and Ischia).
Tickets must be bought at a newsstand, tabacchi or ticket machine before boarding, then time-stamped in the machine
DAY ONE
Discover the historical centre. 
A walking tour through the discovery of some of the most precious hidden treasure of Naples, starting from the Pio Monte della Misericordia, which was founded by seven young people from Naples in 1601.
The historical palace and the church built in the XVII century, still preserve a wide artistic heritage. Among them is one of the best known masterpieces of Michelangelo Merisi da Caravaggio, as well as a rich group of paintings from different schools and periods. We will continue along the Via dei Tribunali which is similar to the old Decumano of the Roman city and we will visit some masterpieces, such as "Cacciata dei Mercanti dal tempio" of Luca Giornado in the Girolaminis church, the Madonna dell-Arco, the paintings of Mattia Preti in the church of S. Pietro a Majella, the Cristo Velato of Sammartino in the chapel Sansevero a masterpiece of the architecture of 1700.
After a spot of lunch in the old town, discover the tunnels that lie beneath the old town.
Underground Naples Tour
Napoli Sotterranea, the underground of Naples. There lies a labyrinth of tunnels, tanks and cavities that spread underneath the old town. It is a fascinating and impressive grandeur of the cavities, and the maze of tunnels that cross each other for several miles below the streets and the buildings above.
The San Gennaro Catacombs, the most extensive in southern Italy, are located beneath one of the most populated neighborhoods in Naples. The San Gennaro Catacombs consisted of two levels, with an ancient "upper vestibule," with remarkable frescoes and for its tiny cripta dei vescovi or Bishops' Crypt (situated near the tomb of Gennaro himself). The basilica maior, dug entirely in tuff rock, features three naves, and boasts a number of 5th-6th Century frescoes.
DAY TWO
We couldn't write about Naples, without writing about Pompeii. Although not in Naples, it is not far from the city. It can be reached by train or we offer private car
Pompeii
Pompeii is one of the most amazing UNESCO World Heritage site in Italy along with the most visited archaeological site in the world.
Located on the south coast of Italy, Pompeii is just an hours drive from Naples, it makes a wonderful excursion from Naples and Rome (as well as the Amalfi Coast).
The well preserved ruins were left behind after the city was destroyed by Mount Vesuvius in 79 AD, it has had a tragic past with an earthquake partly destroying the city in 62 AD. Some of the the city and some of the suburban villas weren't completed before the eruption of Mount Vesuvius.
Pompeii was a thriving Mediterranean port and a tourist resort for the wealthy Romans. The lava encased the city and provided a protection to the ruins and bodies of the people in the city. Due to the lava, we are able to see the civic building, mosaics, wall murals, frescoes, shops and the roads. We get to see the daily life of the ancient Romans and it has captivated tourists, historians and archaeologists for centuries, since being rediscovered in the 18th Century.
The ruins of the city include the Capitolium, the Basilica, the public baths, the triangular forum, two theatres and the Stabian Baths. We recommend are guided tour to discover the stories and to bring the city to life.
Getting to Pompeii
Car
We arrange a pick up and return from your hotel to Pompeii, the drive is less than an hour. It is a much more relaxed way of travelling with your own private driver in a comfortable car/ minivan.
Train
The Circumvesuviana from Naples is another way to get to Pompeii. From Napoli station, follow the signage. The train stops in Pompeii is called Pompei Scavi Villa Dei Misteri and stops outside the main entrance – Porta Marina.
In the afternoon, take a wonderful driving tour of Naples waterfront
San Martina, Castel Sant'Elmo and Chiaia and Posillipo
The Museum of San Martino is an important museum in Naples. Unlike most museums, it includes a church, a charterhouse, beautiful monastery yards and a terraced garden, from its days as a large monastery. The museum itself is located in the former living quarters.
In over 70 halls, it displays exhibits from different eras of Naples city history.
Stretched out along the waterfront, with the pastel palazzi and the ascending the hills, this is Naples' most upmarket locale. Wealthy Romans and grand tourists chose to enjoy their sojourns and today, it's home to smart shops, galleries, beautiful parks and mansions. We will take a driving tour to take in the beautiful location.
Food in Naples
Food is a must and Naples is the home of the pizza. But there is also so much more that you can try, here we have written a small list. But also do try street food, with mozzarella in carrozza, potatoes croquettes, rice balls, fries and much more.
Pizza Napoletana
The pizzas in Naples have a thicker doughy base and are slathered with tomato sauce, cheese (Mozzarella) and fresh basil. The pizza has been around as early at the 18th century. Piazza Margherita was named after the queen of Italy in 1889! The pizzas with a slightly charred crust are made in a signature stone oven and are a must try, so keep your eyes out!
And fried pizza! Yes, Pizza fritta. The pizza dough is fried in olive oil and then it is topped with tomato sauce, mozzarella, a bit of Parmesan cheese and basil. Usually eaten as street food, it can also be found as antipasto in restaurants.
Sfogliatella
Pastry is another Naples must try. The Sfogliatella are thin fold of pastry in a shell shape and you will see them all over the city. Originally, they were created by monks, before a Neapolitian pastry chef started to sell them commercially in 1818. They are filled with either ricotta or almond paste and finished with a dusting of powered sugar.
Fish
You can't really travel to Naples and the coast without trying a fish based dish. There are so many to choose from spaghetti with clams, fish soup, fried fish, oven cooked fish. There are many dishes to choose from and if you choose your restaurant well, you will not be disappointed.
Buffalo mozzarella
We all love mozzarella, what can we say other than this is a must try when in Naples. Mozzarella is a traditional product of Italy. It is typical from the Campania region, where the buffalos are raised.
Limoncello and coffee
Okay, so not food, but Limoncello and coffee are amazing in Naples. Italians will travel to Naples for an espresso, so the coffee is well worth a taste test. Limoncello is a bright yellow liqueur and is made using grappa infused with the zests of the local Sorrento lemons and sweetened with sugar. Often had as a digestivo.
Check out our page about Naples. NAPLES 
Read about Arty Naples. Arty Naples 
Read our blog posts about eating in Italy: Like a local and Eating in Italy
coffee
,
fogliatelle
,
food
,
Italian
,
Italy
,
limoncello
,
mozzarella
,
Naples
,
old town
,
pizza
,
pizza fritta
,
Pompeii
0