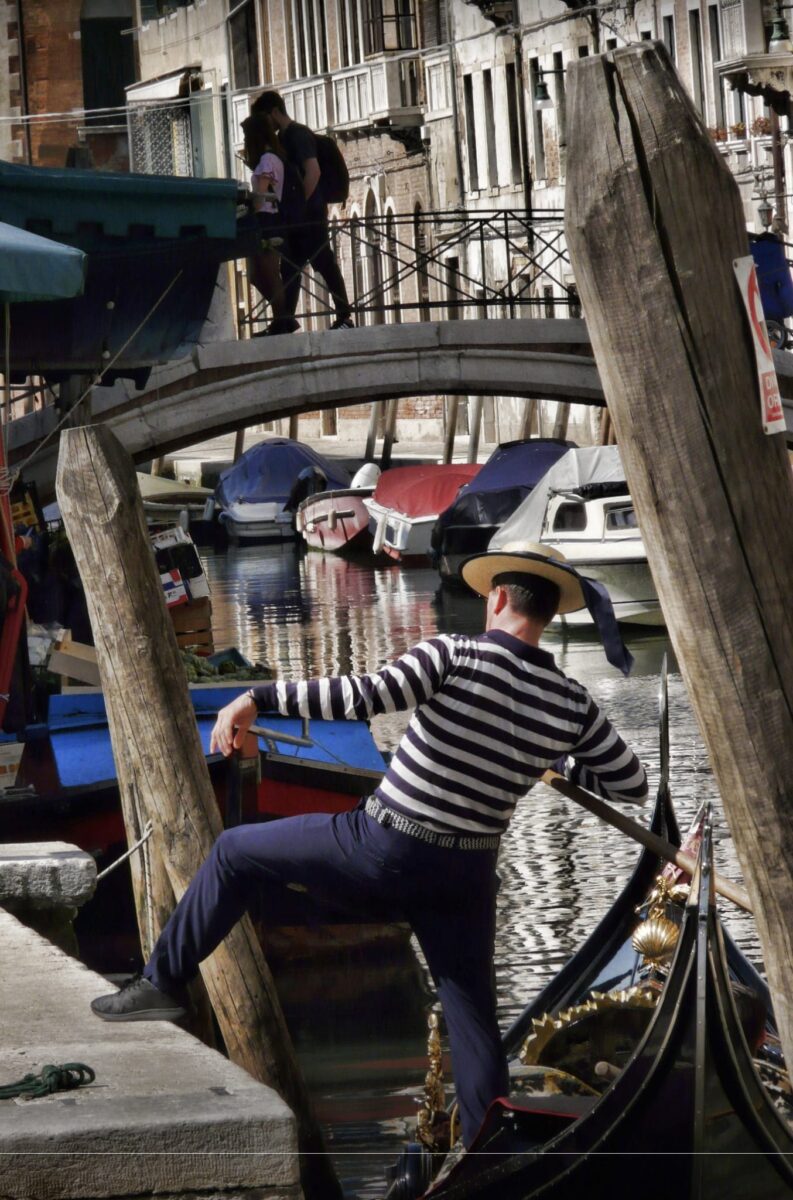 Venice has been enchanting visitors for centuries, from the English poets to the modern tourists. For such a small place, there are thousands of visitors per week often walking the same routes. Here at The Grand Tour we like to offer our clients a deeper more meaningful visit to each place they visit, with local, knowledgeable and professional tour guides. We create tours that will show you the history, culture and character and Venice has a lot to discover! Here are a few of our top Venice tours and some helpful tips for visiting Venice.
Introducing Venice
For first time visitors, we always recommend a introductory walking tour to any city, but it is especially useful in Venice. The narrow streets are like a maze and a local guide is perfect to help you navigate through the crowds, helping you to get your bearings and discover local shops and introduce you to the culture of this amazing city.
Venice has no cars, so the water or by foot is the only way to get around. Gondola rides are the romantic image of Venice and are available all over the city. Walking tours with The Grand Tour will help you to discover the history, explore the alleyways and experience the atmosphere with a local guide.
Best tourist sites
Here are some of the best sites to visit, especially if it is your first visit to Venice.
St Mark's Basilica
St Mark's Basilica is an incredible of architectural styles, mixing Byzantine with Romanesque and Renaissance. The inside of the Basilica is a glittering array of mosaics marble pavement. It is a definite must see.
St Mark's Square
Close to the canal is San Marco, St Mark's Square, a busy area of Venice, it is a great place to start from with the iconic basilica and Procuratie Vecchie and Nuovo.
Doges' Palace
The Palazzo Ducale, was the doges' residence but also the government and prisons. The white stone and pink marble create a unique and splendid building, restored by Antonio da Ponte, who designed the Ponte di Rialto. Here, you can see the famous bridge, the bridge of sighs.
Accademia Gallery
In the early 18th century, while Venice was a thriving community of artists, painters were members of an artisan union and unlike other large cities there was no art academy. Its foundation was realized in December of 1766 when the Senate ordered the construction of an Academy of sculpture, painting and civil architecture, similar to those of the main cities of Italy and Europe.
Rialto bridge
One of the most photographed bridges in Venice, it was opened in 1591. For nearly 300 years, it was the only bridge to cross the Grand Canal. During the first design stages of the bridge, many prominent artists and architects were considered, including Michelangelo. However, Anthony da Ponte, who name translates as "Anthony of the Bridge" (appropriately) was choosen. The bridge took 3 years to complete.
Here are some of our most popular tours in Venice;
Hotels
Although we don't book hotels for our clients, we do offer recommendations. For Venice, we also say that it is best to try and find a hotel or apartment that is close to a water taxi drop off. We can arrange a private water taxi to pick you up and drop you off at the closest dock to where you are staying. Some hotels have their own private docks.
If you choose somewhere that is a walk away from a drop off, it can be a bit of a slog to get your bags and navigate to where you are staying.
Visit the other islands
Don't miss out on visiting the other islands.
Murano
World famous for glass, this beautiful island is a place not to miss. Just a short boat ride fro Venice island, there is a community of just 5000 people. Murano has been a place of glass manufacture since the 13th Century, with Venice having a virtual monopoly on the production of Murano glass and the methods were a well guarded secret. You can visit the museum, seeing impressive glass from all over the world, including the East and Egypt.
Burano
Burano is well known for its colourful fishermen's cottages and its lace industry. It is a wonderful place to visit and excellent for photos, with the pastel coloured houses lining the canals. With less than 3,000 people, it is quite a built up little island, but a great place to wander and experience.
Torcello
Mainlanders fleeing from the invading Lombars and Huns ventured across the tidal flats and founded the settlement that lasted for 1,000 years. From the 5th century start, Torcello reached its peak during 7th century to the 13th century, when it was the seat of the Bishop of Altinum and had a settlement of around 20,000 people.
There are some fabulous reminders of the past, like Santa Maria Assunta, the Veneto-Byzantine cathedral with large and enchanting mosaics. Although no longer looked after, Torcello has a charm all of its own and is a away from the rush and crowds of Venice.
Wearing to visit churches
There are about 139 churches in Venice and it is always best to be prepared when visiting. It is often seen that visitors will enter in what they are wearing, but out of respect it is always best to make sure that your shoulders are covered and the shorts are not very short. Taking a thin scarf is always a great option, you can just drape it over the shoulders if you want to visit a church.
This isn't just for Venice, when visiting any church it is always best to keep your shoulders covered and clothes that are down to the knees.
Useful Information
In the summer months, there are a lot of visitors and it will also be hot, in this type of weather and because Venice is on water, it is not uncommon for there to be mosquitos. If you tend to get bitten, bring along a mosquito repellent. Outside of these times, even in Spring and Autumn the temperatures can be cooler. No matter what time of the year you visit, it is best to pack that travel umbrella.
Accademia
,
Basilica
,
Bridge of Sighs
,
Doges Palace
,
Gallery
,
introductory tour of Venice
,
Palazzo
,
Palazzo Ducale
,
Private tours
,
Rialto bridge
,
san marco
,
St Marks
,
tourist attractions
,
Venice
0