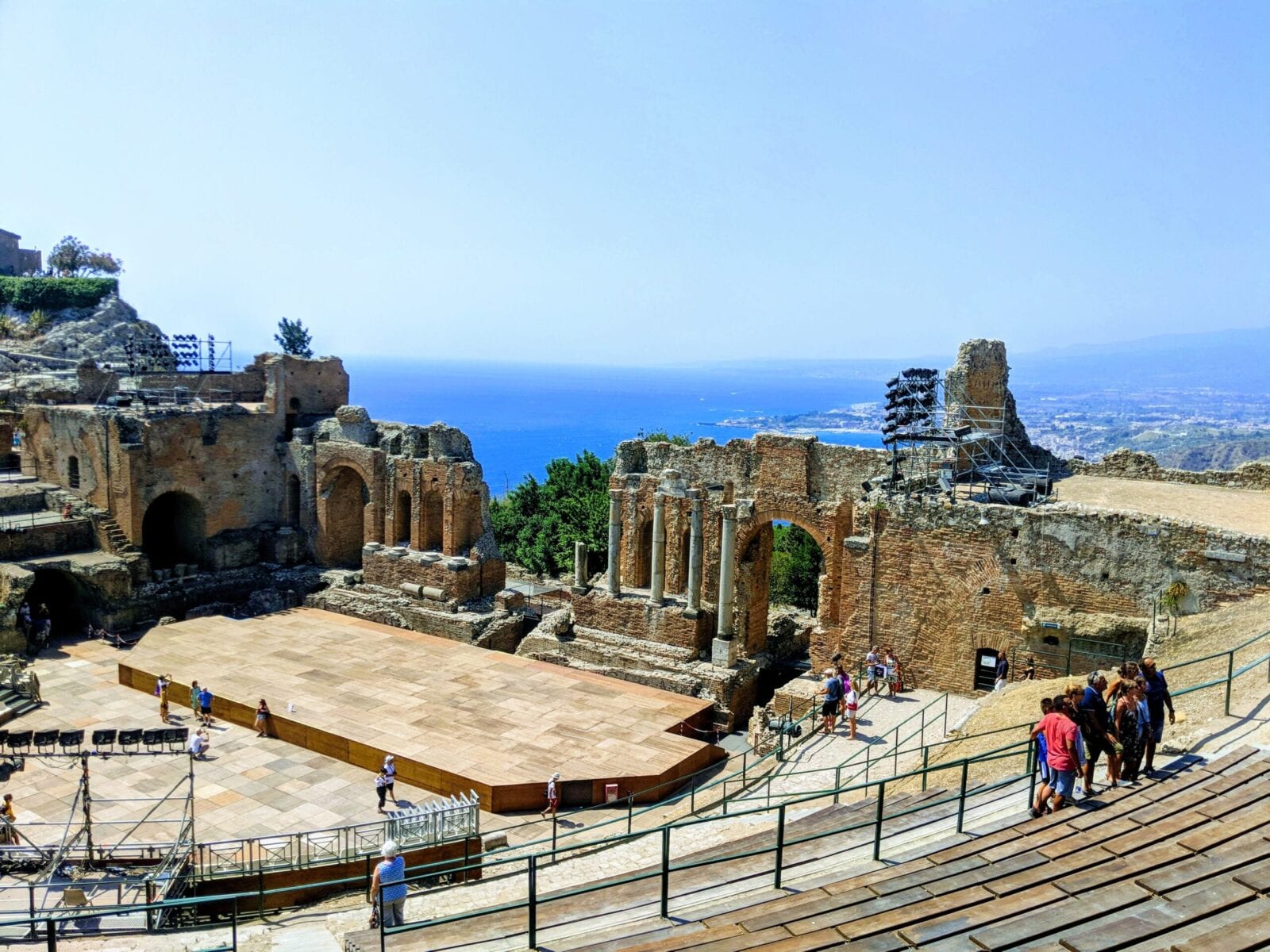 The island of Sicily is a beautiful place and dazzles tourists from all over the world with the amazing landscapes and cultural treasures.
Sicily is the largest of the Italian islands, it is considered to be one of the pearls of Southern Italy. With a mixed and often complex history, Sicily has diverse and interesting range of traditions.  Sporting wonderful mountains, landscapes and the beautiful crystal clear waters and treasured archaeological sites makes it one of the most beautiful islands to visit.
DAY ONE – PALERMO
Arriving at Palermo Airport;
Bus – The Prestia e Comande runs daily, the public bus take about 55 minutes from the airport to Palermo city centre. It departs every half hour and drops off Piazza Castelnuovo and the Central train station. Tickets cost around €5.80.
Taxi – Taxis are the most convenient, but cost more than the bus, around €35 or a single trip. The taxi's are located outside the arrivals terminals and will be able to take you to the door of your hotel. It takes approximately 45 minutes from the airport.
After checking in to your hotel, introduce yourself to the wonderful city of Palermo with a wander.
Introductory Street Food walking tour of Palermo
Starting at Vucciria Market and Mercato di Capo, two colourful outdoor markets. Learn about Sicily's culinary history through the street food scene, as the local vendors promote their unique food.
Visit the neighbourhood bakeries, cafes and street food stalls and try a variety of famous Sicilian street snacks. Try panelle, a type of chick pea fitter and deep-fried balls of rice stuffed with meat, vegetables and cheese called arancine. You can taste the sweet Sicilian wine, and after try the gelato for a sweet treat. Indulge in Sicily's famous cannoli (deep-fried pastry cylinders filled with sweetened ricotta cheese), and a refreshing granita (a fruity slushy).
DAY TWO – PALERMO to TAORMINA
Although a small island, Sicily still takes some planning to get around. A more expensive option is hiring a private car and driver, but with this option you can stop in places you would like to see and in comfort. A car from Palermo to Taormina would take just over 3 hours and will cost usually between €80 and €150 (depending on the size and type of car)
Another option to travel from Palermo to Taormina is by train. There are train changes with waits of about 10 minutes, but there are 2 options and there isn't much difference in the times. Train travel will take about 4 or 5 hours.
Palermo – Messina – Taormina Trains from Palermo to Messina are approximately every 2 hours and the travel is around 3 hours. From Messina to Taormina, the trains are approximately every hour and the travel is about 1 hour. For this train travel the cost is around €14.50
Palermo – Catania – Taormina Trains from Palermo to Catania are approximately every hour and the travel is around 3 hours. From Catania to Taormina,, the trains are approximately every hour and the travel is just under 1 hour. For this train travel the cost is around €15.00
Taormina is split between a hill top and the sea, there is a wonderful little cable car to get you up and down the mountainside, a return is priced at about €1.50.
To discover Taormina, we highly recommend a walking tour. But it is still an amazing place to explore on your own.
Tour of Taormina
Taormina is a picturesque small town perched on a slope high above the Ionian Sea on the eastern coast of Sicily. It's rich in history, art, culture and tradition and located in one of the most breathtaking spots of the whole country. You'll get to see, the Ancient Greek Theatre, A symbol of Taormina, it offers one of the island's best known postcard views – the spectacle of the Ionic coast framed by the ruins of the theatre's backdrop structure. Reconstructed and enlarged during the Roman period, the theatre in its heyday could s
eat 10,000 spectators. The Piccolo Teatro Odeon, the Corvaia Palace, Porta Messina and Corso Umberto, Taormina's main drag. Mildly meandering through the old medieval town from one ancient gateway to another, from Piazza Sant' Antonio to Piazza Vittorio Emanuele II.
DAY THREE – TAORMINA
From Taormina, there is the chance to explore one of the most famous volcanoes in the world. Why not take a trip up and have a walk around an active volcano. With a pick up from Taormina in the morning, around 07:00 or 08:00, you will be back by 17:00/ 18:00.
Mount Etna excursion
Set in the middle of a national park, the notoriously active volcano, Mount Etna dominates the landscape.
Step out at Rifugio Sapienza, the volcano's base station. From there, head up to the volcano by cable car. Weather permitting, the cable cars run all day and prices include a minibus from the cable car station to the main crater. Discover and soak up incredible views of the national park on an active volcano.
DAY FOUR – TAORMINA
On our itineraries, we offer our clients a private car and driver. A drive from Taormina to Syracuse will take approximately 2.5 hours.
Another option is the train, taking approximately 2 hours and costing just under €20 this is still a great option. But be aware there are limited trains, with them tending to be every 3 hours or so.
Excursion to Syracuse
Syracuse is a timeless beauty, with amazing remnants of its long history, with Ancient Greek ruins, dazzling baroque piazzas, and medieval lanes. One of the ancient
Greek's most important cities, this was the largest city in the ancient world.
Across the water from the mainland, Ortygia remains the city's most beautiful corner. Ortygia Island (also called Città Vecchia or Old City) is the site of many of the main attractions, including the seventh-century cathedral and the Fountain of Arethusa.
Food of Sicily
Granita (with Brioche)
A tasty treat for when the weather gets hot! It is a frozen dessert, made of ice and is flavoured with seasonal fruit. It is not slushy, but is eaten with a spoon. For breakfast, granita is served with a brioche roll to eat with the ice (unusual, but it works!)
Pasta con le sarde
A typical dish of Palermo, it is long pasta (like spaghetti or bucantini) with sardines, white fennel, pine nuts and sultanas. The addition of the sultanas makes this a food version of Sicily's history, with a pasta dish with an Arabic twist.
Pasta alla Norma
More from the Catania side of Sicily, it is a wonderful dish of fried aubergines, pasta in a basil and tomato sauce with salted ricotta cheese grated on top. It is named after the opera written by Bellini and is a dish not to be missed!
Cannoli
Quite possibly the most iconic pastry. A crispy shell with a light and creamy ricotta filling. What is not to love!
Cassata
This cake is seen everywhere and tastes amazing. It is a sponge cake made with sweet liqueur. It is layered with ricotta and candied fruit, it is then covered with marzipan , white icing or whipped cream and finished with more candied fruits.
Cannoli
,
Cassata
,
Etna
,
granita
,
History
,
Italy
,
Mountain
,
Norma
,
Palermo
,
pasta
,
sicily
,
Syracuse
,
Taormina
,
Volcano
0