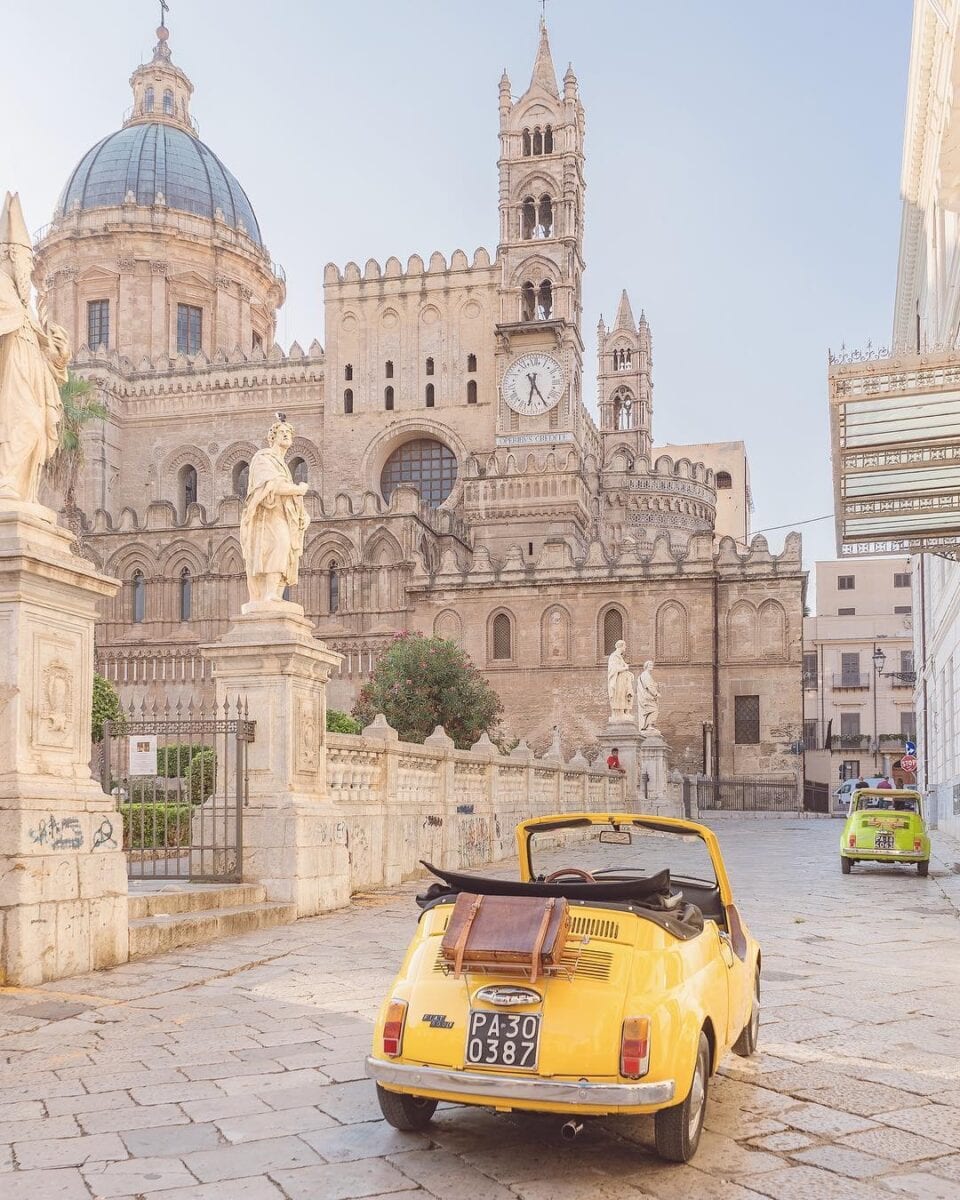 Some useful information if you are thinking of hiring a car and driving in Italy.
International Driving Permit – Americans visiting Italy as tourists and intending to drive should obtain an International Driving Permit before leaving the U.S. 
https://it.usembassy.gov/u-s-citizen-services/local-resources-of-u-s-citizens/transportation-driving/ 
For EU member states, a valid photo card driving license is accepted by car hire companies and police.
Information
From:  https://www.lonelyplanet.com/italy/travel-tips-and-articles/76993
Speed limits
Speed limits vary according to the road and the weather conditions.
| | | | |
| --- | --- | --- | --- |
|   | Motorways | Outside built-up areas | In built-up areas |
|   Normal Conditions   |   130km/h |   90km/h |   50km/h |
|   Wet weather Conditions   |   110km/h |   90km/h |   50km/h |
In cities and unmarked intersections those coming from the right have priority – unless otherwise stated.
Driving styles
Italian drivers tend to be more aggressive, driver faster, but they are skilful. Swapping lanes suddenly and late braking are normal and it's not uncommon to see cars tailgating at 130km/h. Italian drivers aren't patient and they won't slow down for you or let you out. As soon as you see a gap, go for it, Italian drivers can react very quickly, but you must go with your decision, they don't do well with 'dithers'. Italian drivers don't tend to stay in the lines on the road, they are merely a guide. Expect cars to squeeze into any gap. A 2 lane road can quite easily become 5 lanes. 
Road etiquette
Like in most countries, there are unwritten rules of the roads. Flashing the lights is very common and can range from 'get out of my way' to 'don't think about coming out in front of me because I will not stop'. If a car coming towards you on the other side of the road flashes, it is usually a warning sign of police checks ahead. 
Horns are a common occurrence in Italy. Italians tend to use them for all sorts of reasons, these can range from 'watch out' to 'ciao' or 'the traffic light is green'. Most people ignore the sound of a car horn, no matter what it is for!
City challenges
There are many challenges to driving in a city. Most Italian cities have traffic restrictions or areas that are off-limits to unauthorised traffic. These called ZTL or zona a traffico limitato (reduced traffic zone), if you do mistakenly enter these areas, you risk being caught on camera and sent a fine. 
City driving also will involve dealing with one way roads, scooters appearing out of no where, very narrow streets and people just stepping out on a cross work. The early afternoon is usually the best time, when traffic is light and parking is a little easier. 
Most historical city centres will not allow cars to enter without an official pass. If your hotel is in a historical centre you can buy a pass from most car hire companies. The boundaries are marked with the ZTL in black on a yellow background. 
This is a good website for more information of ZTLs: 
http://www.autoeurope.com/go/italy-ztl-zones/
Parking
Parking can be a big problem. Space is at a premium in towns and cities and Italy's traffic wardens are seldom seen but are always there! Car parks do exist but they usually fill up quickly, leaving you to park on the streets. If you park between blue lines make sure to get a ticket from the nearest meter (coins only) or tabaccaio (tobacconist) and display it on your dashboard. Note, however, that charges don't apply overnight, typically between 8pm and 8am. Most hotels will have parking or allowances, if you are hiring a car it would be a good idea to ask your hotel about parking. 
Petrol stations
There are petrol station all over, but the smaller ones tend to close between 1pm and 3.30om (lunch break!) and on Sunday afternoons. But there is no worry as many have self service machines (fai da te), these can be used at any time. To use them, you will have to insert a bank note and press the number pump that you want to use. 
A good thing to remember is benzina is petrol and gasolio is diesel. 
What to carry in the car
Ensure that you are caring your driving license, car documents and insurance papers. In Italy it is a legal obligation to carry a reflective safety vest, all hire cars should have one (maybe best to check). It is always useful to carry a few coins, in case of parking meters. Italy has many windy roads and car sickness is a possibility, a few plastic bags might be useful!
Some useful websites
This is a blog, it helps to understand Italian road signs, as there are a lot of road signs. http://italyexplained.com/driving-road-signs-italy/ 
http://www.ukmotorists.com/italy-road-traffic-signs.pdf
If driving isn't for you, do not worry… we can help. We use private cars, but also first class high-speed trains to get you from place to place. We arrange it all for you!
benzina
,
city challenges
,
city driving
,
Driving
,
Driving in Italy
,
driving styles
,
gasolio
,
hiring car in Italy
,
Italian driving
,
Italian Road driving
,
Italian roads
,
Italy
,
parking
,
speed limits
,
tabaccaio
,
US citizen
,
useful information
,
useful tips
,
zona a traffico limitato
,
ZTL
0