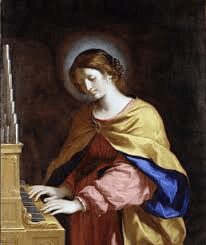 On 22nd November, Roman Catholics celebrate the Feast of St Cecilia, the Patron Saint of Music.
St Cecilia is honoured in different ways, but one of the most interesting activities is the festival which takes place every year at the church of Santa Cecilia in Trastevere, named after the martyr.
The Church is just a short walk from Vatican city and is built over the home of Saint Cecilia. It is a great place to start with the celebrations.
Who is St Cecilia?
It is believed that St Cecilia belonged to a noble family. From childhood the young Cecilia had consecrated her virginity to God, after a visit from an angel telling her that God wished her to remain a virgin. Her family forced her to marry a man named Valerian, the future Saint Valerian, who was then a Pagan. She told Valerian of her vow to God and he promised he would respect her vow as long as he was shown proof of the angel. Cecilia told him in could see the angel if he were baptised.
As the story goes, upon his return from his baptism, Valerian found Cecilia talking to the angel. After he also converted his brother Tiburtius as well. Both brothers were martyred by order of prefect Turcius Alamchius, before Cecilia.
Cecilia was taken to Almachius, who is mentioned in The Canterbury Tales, The second Nun's tale. Almachius did not take kindly to Cecilia distributing her wealth to the poor. She was sentenced to death. There are differing accounts of how she was to die, some say she was to be suffocated others to be burnt at the stake. However, neither of these ended her life and the sentence was changed to beheading. It is believed that she lasted another 3 days after being struck 3 times with an axe before she died. She was buried in the Catacombs of Callistus.
Later Pope Paschal I moved Cecilia, her husband and Tiburtius to the Church dedicated to St Cecilia in Trastevere, a Church believed to be built on Cecilia's house.
In 1599, during a restoration of the church, a sarcophagus was found with the body of Cecilia. Stefan Maderno (1566-1636) was commissioned a statue that would closely resemble the body of Cecilia. This statue is under the altar of the Church.
There are only 7 females, other than the Virgin Mary, who is commemorated in the Canon Mass and St Cecilia is one of them. The Patroness of Musicians.
Parton Saint of Music
As the patron Saint of music, Cecilia is mostly represented with a musical instrument. It is uncertain why Cecilia became the patron saint of music as the only link is documented since the late Middle Ages. The most plausible explanation seems to be a misinterpretation of introductory words for the Mass on Cecilia's Feast. "Cantantibus organis, Cecilia virgo in corde suo soli Domino decantabat dicens: fiat Domine cor meum et corpus meum inmaculatum ut non confundar' ("while musical instruments were playing, virgin Cecilia sang in her heart to the Lord only, saying: Lord, let my heart and my body be immaculate so I shall not be confounded") This text was connected with the wedding of Cecilia, with her singing to God with an instrumental accompaniment. This is believed to be the start of the connection with music.
However, older codices do not report this version, but as "Candentibus organis, Caecilia virgo…", talking about 'organs' as instruments of torture at the time of her martyrdom, "among the flaming instruments of torture, she sang to God in her heart".
Whatever the true link, St Cecilia has become an inspiration to musicians, poets and painters for hundreds of years.
Culture
,
events
,
feast
,
feast of st cecilia
,
History
,
Italy
,
Italy history
,
November
,
Patron St of Music
,
Rome
,
Saint Cecilia
,
St Cecilia
0