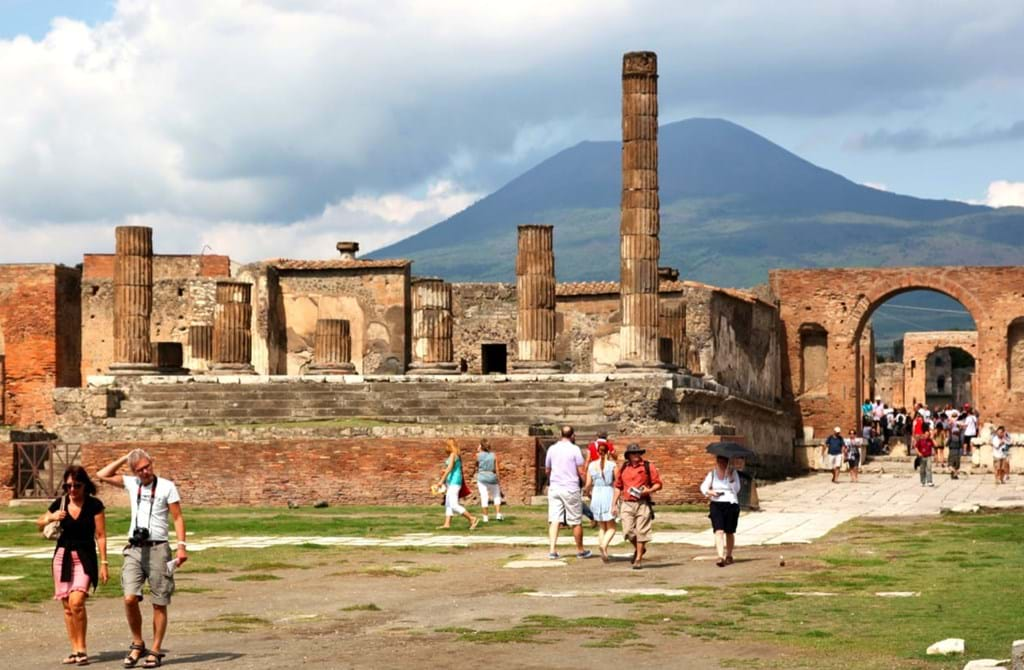 Pompeii is one of the most amazing UNESCO World Heritage site in Italy along with the most visited archaeological site in the world.
Located on the south coast of Italy, Pompeii is just an hours drive from Naples, it makes a wonderful excursion from Naples and Rome (as well as the Amalfi Coast).
The well preserved ruins were left behind after the city was destroyed by Mount Vesuvius in 79 AD, it has had a tragic past with an earthquake partly destroying the city in 62 AD. Some of the the city and some of the suburban villas weren't completed before the eruption of Mount Vesuvius.
Pompeii was a thriving Mediterranean port and a tourist resort for the wealthy Romans. The lava encased the city and provided a protection to the ruins and bodies of the people in the city. Due to the lava, we are able to see the civic building, mosaics, wall murals, frescoes, shops and the roads. We get to see the daily life of the ancient Romans and it has captivated tourists, historians and archaeologists for centuries, since being rediscovered in the 18th Century.
The ruins of the city include the Capitolium, the Basilica, the public baths, the triangular forum, two theatres and the Stabian Baths. We recommend are guided tour to discover the stories and to bring the city to life.
Getting to Pompeii
Car
We arrange a pick up and return from your hotel to Pompeii, the drive is less than an hour. It is a much more relaxed way of travelling with your own private driver in a comfortable car/ minivan.
Train
The Circumvesuviana from Naples is another way to get to Pompeii. From Napoli station, follow the signage. The train stops in Pompeii is called Pompei Scavi Villa Dei Misteri and stops outside the main entrance – Porta Marina.
Why not add a driving tour to the Amalfi Coast or visit Naples?


amalfi
,
archaeological
,
coast
,
Naples
,
pompei scavi villa dei misteri
,
Pompeii
,
porta marina
,
private
,
ruins
,
sorrento
,
train
,
travel
,
vesuvius
0