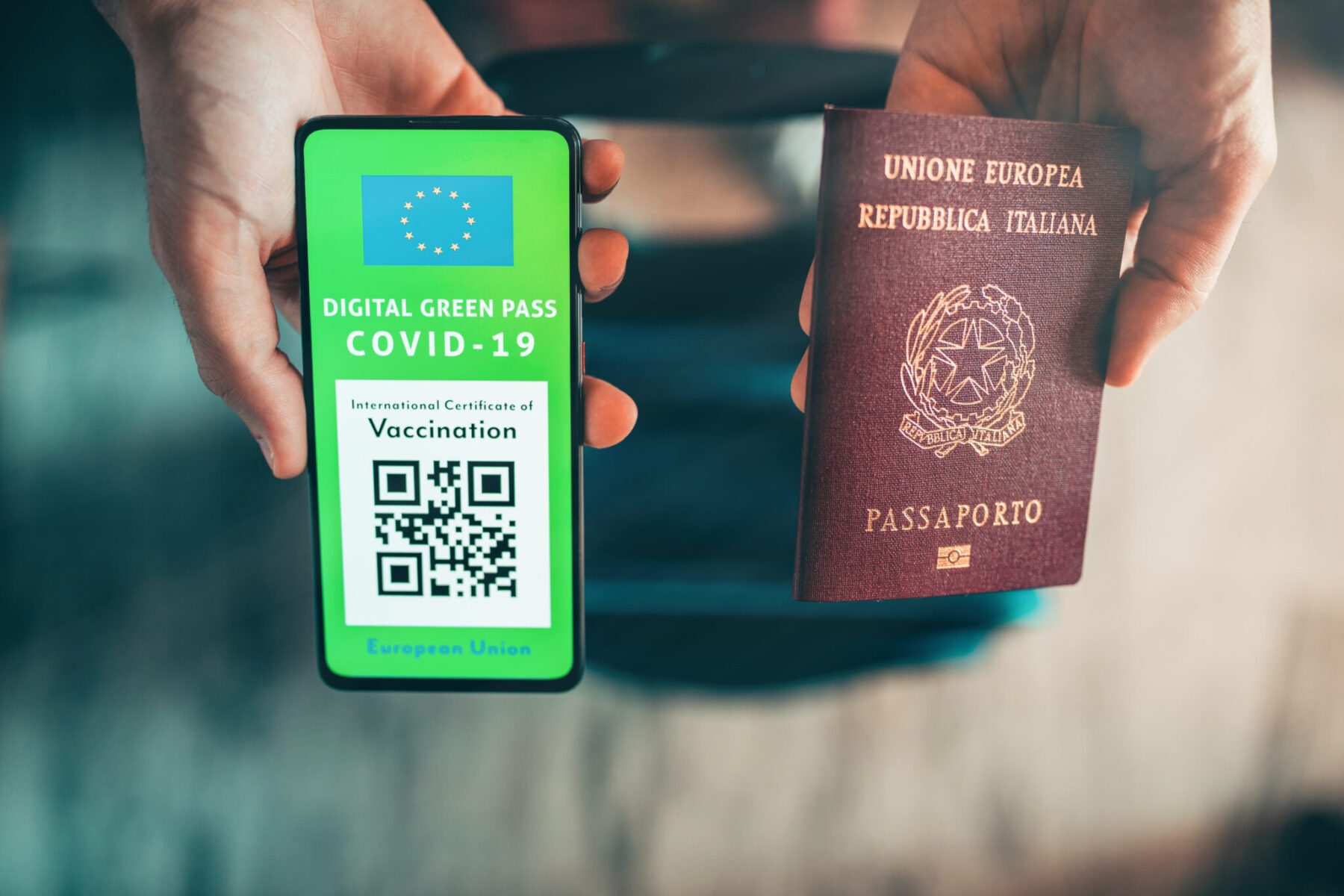 Two years since Covid started to spread we may finally see if not the end, at least a general relaxation of rules and measures. From today 11th of February 2022 face masks are no longer required outdoors in Italy. You still need to wear a FPP2 indoors and in crowded areas even outdoors, but this may be lifted either by the end of March or by June at the latest.
Why not start planning your unique travel experience with The Gran Tour today?  you can enquire about a free quote and travel itinerary from our experts by filling out the online form HERE
Below we have prepared a small vademecum to help you in getting ready for your next European adventure! Please be aware that the following advice is up to date on the 16ht of august and things may be changing constantly so ALWAYS check the official government websites and your airline website for the last updates before traveling. 
GETTING ON THE PLANE
Airlines are responsible to check you have the right paperwork before you board, check the airline website at least 72 hours before you travel as you may be requested to show a recent (48 hours) NEGATIVE Covid Test (24 hours in case of a Antigen), even if you have your vaccination or have recovered from the virus in the last 6 months.
Some countries require additional paperwork to be filled in, passengers traveling to Italy, Malta, or Slovenia  (as their final destination) should complete a passenger locator form via the European Digital Passenger Locator Form (dPLF) HERE https://app.euplf.eu/#/ 
If you are traveling to the UK you also need to fill the  passenger locator form BEFORE you travel, HERE https://www.gov.uk/provide-journey-contact-details-before-travel-uk
You will receive an email with your form, make sure you download it on your Phone, and it is easy to access. If you travel to ITALY print is as they may not accept the digital copy at the airport.
GREEN PASS IN EUROPE
European Union has implemented a common certification called GREEN PASS https://ec.europa.eu/info/live-work-travel-eu/coronavirus-response/safe-covid-19-vaccines-europeans/eu-digital-covid-certificate_en
An EU Digital COVID Certificate is digital proof that a EUROPEAN CITIZEN has either:
-been vaccinated against COVID-19
OR
– received a negative test result
OR
-recovered from COVID-19
Some Countries like ITALY are now requiring (Since Aug 6th, 2021) a valid SUPER GREEN PASS, id Proof of your vaccination status,  to access most venues open to the public, such as cafes, restaurants, and museums.
GREEN PASS for NON EUROPEAN CITIZENS
As long as you meet the requirements and criteria above mentioned you will be treated as equal to the SUPER GREEN PASS, specifically for Italy you can the USA, CANADA, UK and JAPAN Covid Vaccination Certificates are also accepted, you will be required to show your certificate AND a valid PHOTO ID.
The Certificate must be digital or if paper MUST be THE ORIGINAL – For US CITIZENS the CDC certificate with the Logo is accepted. Photo ID such as driving license or Passport can be photocopied or a photo on your Phone (best to have both at all times).
In ITALY f you need a Valid SUPER GREEN PASS or Equivalent VACCINATION CERTIFICATE document to access Restaurants (but only for indoor seating), Cafes, Museums INCLUDING open-air Archeological Areas and Parks, Spas, Gyms, Hotels, etc.
TRAVELLING BACK HOME
As good as it may sound to prolong your stay indefinitely, you may want to get Home at some point. To travel back to your country or withing Europe you may need another Covid Test with a certificate in English, most pharmacies do that in Italy, you need to book the test and fill a form (that may be in Italian only, a good exercise if you are planning on learning the language) this is what they will ask you:
Nome – Name
Cognome – Surname / Nato – Place of Birth
Il – Date of Birth / CF (codice Fiscale) is the Italian Tax Code, leave blank
Email/ Tel – You know what these are
Indirizzo – Address / CAP – ZIP CODE
Estremi del Medico di Base – Your GP Name, address, and email (if it is a company that is ok as well)
You need to check with your Airline what test you need, anyway, a Lateral flow (Antigen) should do in most cases (in Italian ANTIGENICO)
You will get the results in 15 minutes. But consider that it can take up to 2 hours to do the test even if you book, as you will have to get there and queue anyway, fill the paper form, etc.
As for a copy in ENGLISH BEFORE you take the test, and you will need to show an ORIGINAL PHOTO ID (Passport, Driving License, etc NOT your COSTCO card or other membership cards but only government-issued ID)
You can get tested in many Pharmacies in most City Centres. If you are staying in a small town or a village the next testing facility may not be so close so make sure you double-check it some time in advance and anyway NO LATER than 72 hours before your departure.
I know all of the above, plus the requirement to wear a mask in all indoor venues still in place in many countries (Including Italy) may put you off traveling but we can ensure you that this upcoming fall is definitely the best time to enjoy popular cities and places without the crowds and the masses that are expected in the (hopefully) near future.  There is a strong desire to travel, and Italy is among one of the most looked locations, but we have also to accept that certain restrictions and rules will be with us for some time and it's best to get accustomed to them asap, especially that set of mind that showing up at a place, at any place, without a reservation or having the right requirement will leave you out.
SAFE TRAVELS!
PS: if you need assistance in planning your holiday you can enquire about a free quote and travel itinerary from our experts by filling out the online form HERE
0